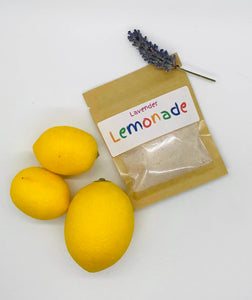 Introducing our newest product! 🍋💜LAVENDER LEMONADE 💜🍋 This tastes AMAZING!!!
This drink is not only refreshing but it's soooo delicious 💜. It's 100% natural. It only has 1 gram of carbs (per serving). It has no preservatives, no artificial sweeteners, no artificial flavors, no artificial colors, no calories, no fat, no sodium, no MSG, no soy & it is non GMO. It's completely Gluten-free & offers 25% of adults daily Vit C requirements. This small package makes 1 gallon. Why pay $12 per gallon (refrigerated) at popular Chicken restaurants when you can keep this in your pantry & use as needed. 
Ingredients: Cane sugar, Crystallized Lemon & Lime juice, Stevia, Beet & Elderberry juice (for color) & Culinary lavender.