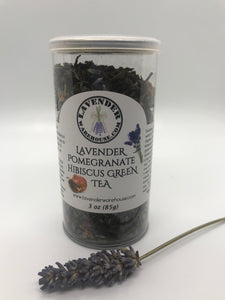 This is a Chinese Sencha green tea that is infused with pomegranate flavor. Its slightly tart, sweet, berry pomegranate flavors pair well with the mellow, green flavor of the Sencha.
Directions:  Bring water to 175-180 degrees.  Spoon 1 teaspoon of loose green tea into a tea strainer/sieve into a tea cup (8-10 ozs).  Pour water over the tea and let it steep for 3 minutes.  Remove strainer/sieve from cup.  And honey or sugar if desired. 
Ingredients: Sencha OP tea, pink rose petals, natural pomegranate flavors, hibiscus flowers, lavender buds.
Handcrafted in Small Batches
3oz