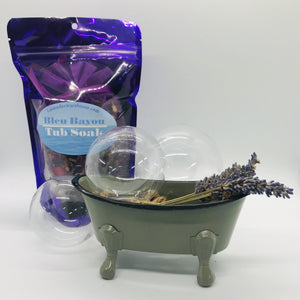 Dreaming of blue waters? This will turn your bath water blue with the wonderful scents of Lavender, Rose & Sweet Jasmine. 💙
You may have seen idyllic images of floral baths popping up all over Instagram and Pinterest lately. Maybe you've been caught scrolling through photos of colorful flower petals spilling out of oversized bathtubs in a state of dreamy wanderlust while at work.
Fortunately, it doesn't take a trip to Bali to experience this sensory treat for yourself in the comfort of your own home! You can recreate the bath of your daydreams with fresh or dried flower petals in your tub. Voila! A luxurious, rejuvenating experience for the mind, body and soul.
Taking a floral bath is not only aesthetically pleasing—there are also numerous healing properties and physical benefits. Here are the flower petals & essential oils that we use in our "Bleu Bayou" Floral Tub Soaks:
Rose: Hydrate the skin
Lavender: Works to calm the mind and relieve stress
Sweet Jasmine: Enhances and uplifts mood
Butterfly Pea: Stress/anxiety relief & helps combat aging 
Enjoy an at-home spa by adding our flower petal concoction into a hot bath, light some candles, apply a face mask and get ready to indulge in a self care ritual that will melt away any tensions and refresh the soul.
As the steamy water releases fragrance from the petals, take a few deep breaths, inhaling the light floral scent. As you exhale, allow yourself to relax even further.
You can keep the petals in the organza bags & reuse (3-5 baths each) or open the drawstrings & sprinkle into tub to float around with you. You'll love the "Bleu Bayou" water the petals create! (The blue color is all natural & will not stain your skin but it could stain your hair. Hang bag to dry from tub spout but be careful what it drips on to dry, as it could stain items it touches.)
Ingredients: Lavender, Rose, Butterfly Pea, Jasmine, Grape seed oil & Jasmine essential oil 
Handmade in small batches