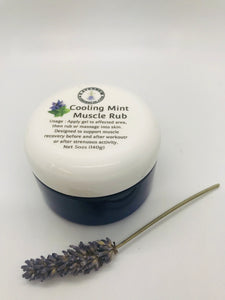 Indulge in cooling relief... our Cooling Mint Muscle Rub is 5 oz loaded with ultra-cooling Menthol and a special blend of Pure Essential Oils to provide that icy cold feeling without having to trek the Arctic. It is specifically formulated to relieve tight muscles with a cool, refreshing sensation while hydrating and moisturizing your skin. This gel glides on smooth and within seconds you can feel the cooling action soothing and refreshing your muscles.
Rest and Recovery is one of the most integral parts of any exercise program.   Whether it be weight lifting, running, cycling or any other activity that puts your body through stress, your body requires time to recover, repair and come back stronger. Recovery regimens can include everything from hydration, healthy meals, yoga, foam rolling, hot and cold baths as well as massage, but all recoveries have one thing in common; sore muscles! Our Cooling Mint Muscle Rub is perfect for athletes, dancers, marathon runners or anyone that can benefit from the cooling, relaxing effect it has on sore muscles.
Natural Menthol is obtained by freezing the oils in peppermint. The resulting crystals are then separated by filtration. Menthol Crystals are prized for their deep revitalizing, cooling sensation. That cooling sensation also stimulates circulation, reduces irritation and naturally tightens skin. As a topical analgesic, it is used to relieve minor aches and pains such as muscle cramps, sprains, headaches and similar conditions, alone or combined with ingredients such as camphor and/or eucalyptus oil. Menthol Crystals are the key ingredient in our rub, which is then further enhanced with a beneficial blend of four Essential Oils.
Mentha Piperita (Peppermint) Leaf Oil :

 

A hybrid mint which is a cross between Watermint and Spearmint. Peppermint Oil has a cooling effect when used topically for muscle pain, nerve pain or relief from itching.
Mentha Viridis (Spearmint) Leaf Oil :

 

Mention of Spearmint dates back to at least the 1st century AD. Spearmint is used for its aromatic and antioxidant effects.
Rosmarinus Officinalis (Rosemary) Leaf Oil :

 

Rosemary is great for cooking, but studies have also shown that Rosemary Oil may improve blood circulation while providing pain relief.
Eucalyptus Globulus (Eucalyptus) Leaf Oil :

 

Distilled from the leaf of Eucalyptus, it has a varied application history as a pharmaceutical, antiseptic, insect repellent, flavoring and fragrance. Eucalyptus oil works great when blended with massage oil, as its main chemical components, Eucalyptol and alpha-terpineol afford a cooling, soothing vapor.
Usage : Apply rub to affected area, then massage into skin. Designed to support muscle recovery before and after workouts or after strenuous activity.
Warning: For external use only. Menthol can be highly irritating when applied to mucous membranes, so please be conscious of where you apply. Keep away from eyes, nose and any other sensitive areas. Do not apply to wounds or damaged skin. Do not use with heating pads or any heating devices. Do not bandage. Wash hands promptly after using to avoid contact with face or eyes