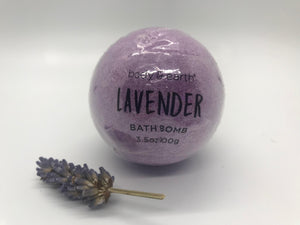 PERFECT FAMILY GIFT! Simple but practical packaging makes the Bath Bomb clear and easy to access. Convenient and easy to unfold. Great gifts for women, moms, teen girls, kids and men.

SOOTHE & REPAIR SKIN! Shea butter, coconut oil, sea salt, essential oils and so much more to naturally nourish your skin. Vegan, paraben-free and cruelty-free.

SUPERIOR VALUE! Best value - Low price - Zero compromise on quality. No staining colors or decorative remnants, our bath bomb will leave your tub clean.

LUXURIATE! Moisturizes and smooths the skin, bringing immediate relief from fatigue and stress. The bath bomb melt quickly and you can relax yourself in the fizzing water.

3.5oz Bath Bomb in inviting Lavender scent. With the unique floating color effect, this bath bombs will bring you comfortable, relaxed bubble bath journey.